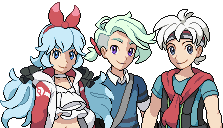 The story
The player comes from a family of successful trainers - two of your cousins, Martin and Mariana, have high positions in the Vereshad region. Martin being one of the region's gym leaders and Mariana being the champion, your parents would often compare you to them. Finally deciding it's time to become a trainer and prove yourself, you meet with the new temporary Professor, Professor Sakura, to get your starter Pokémon and begin your journey. While there you meet with your childhood friend Damien and someone entirely new to this region, Eva!
During your adventure you'll learn more about your friends, but more importantly you'll be learning more about the region and it's rich lore. How did Vereshad become this melting-pot of culture? Where is the original Professor - Professor Ilex? Why is Sakura sitting in for Ilex? Who is Team Radiance ? What is their motive?
Who is the legendary Pokémon, and what is it's power?
Unique starters
During your journey in the Vereshad Region you'll be aided by one of three Pokémon that Professor Sakura has brought back from her journeys as a researcher.
These three are known as the Psychic-type Psypole, Fighting-type Boxeroo, and Dark-type Seijitsu! All coming from their own unique regions.
Unique features
Entirely Fakémon dex (~250+)
A working GTS
New moves and abilities unique to this project
New Pokéballs and healing items
New evolution methods
Custom UI
Lots of custom tiles
A bug-catching and fishing contest reminiscent of the Johto's Bug Catching Contest!
Friendship system with important characters
Dynamic world/events
PLA style move-relearning system
A lot of features PSDK comes with like multiple saves, following Pokémon
And more™
Sound Effects
GameFreak
BadSamaritan
Overworld Sprites
Tileset
Sapphire, PickyPixelArtist, Ekat, Michael, Magiscarf, Chromuh, Peekychew, Derlo, ShawnFrost, Zein, InmortalKaktus, WesleyFG, Cope, CrazyClidde, ChaoticCherryCake, logiedant, Warpras, KyleDove, Speedialga, Spacemotion, Alucus, Pokemon-Diamond, Kizemaru-Kurunosuke, EpicDay, Thurpok, UltimoSpriter, Dewitty, Minorthreat0987, TyranitarDark, Heavy-Metal-Lover, kaitoooo, BoOmxBiG, CrimsonTakai, PkmnAlexandrite, Kaliser, JesusCarrasco, Newtiteuf, Zeo, Pablus94
This game has been made using Pokémon SDK. Click on that text to check the credits of Pokémon SDK